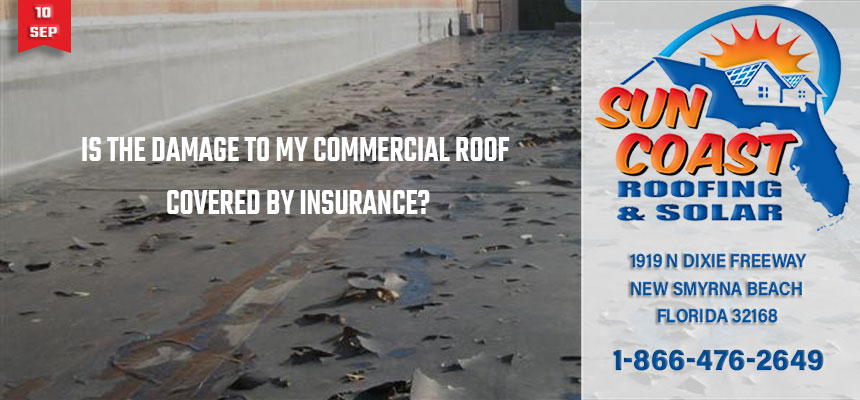 Commercial Buildings – Is the Damage to my Roof Covered by Insurance?
Commercial Roofing Insurance Claims are very important to get right. There are too many missteps, mistakes, miscalculations, under-valuations, and oversights that are possible if your Insurance Claims Adjuster is left all alone to draw his own conclusions regarding the possible extent of damages to a commercial roof. And a Florida state Licensed Commercial Roofing Contractor should always be on your side to give perspective, opinion, viability, and remaining service life of the existing roofing structure.
It is critical that your job is handled correctly from the very start.
And just where do you start? You start by calling Sun Coast Roofing. Ask for a Commercial Roofing Insurance Specialist to inspect your roof. We use highly sophisticated drone technologies to examine your structure, up to and including high-resolution infrared images to determine the exact location and areas with damage to your roofing structure. We meet with your Insurance Adjuster to examine the damages. We offer deep perspective and insight to the claims process that will most assuredly help achieve your long term goals of installing and maintaining the highest quality commercial roof possible. And in most cases, the only out of pocket fee to you is the cost of your insurance deductible, as required per Policy.
Call 386-423-0656 today for a free property assessment.!
Eric first started in the roofing business in 2006, in New Orleans after Hurricane Katrina. He has earned a variety of Certifications over the years, namely Certified Advanced User on Xactimate, Certified by the IICRC as Water Damage Remediation Damage Technician, Certified by the IICRC as Fire/Smoke Damage Technician, Certified Mold Inspector, and Certified Lead Paint Inspector. His primary area of expertise lies with Insurance negotiation work.
Author Related Posts: