Residential

Solar

It has never been simpler to turn your roof into an asset by installing a new roof-integrated solar system.
High Quality Solar Panels
Say goodbye to those clunky solar panels with racks and brackets that are installed above your roofing shingles.
The GAF DecoTech® Solar System delivers high performance along with curb appeal. DecoTech Solar is direct-to-deck and flashes in just like a skylight, providing excellent water-shedding qualities and saving both time and materials.
Integrated Solar Roof
Sleek Low Profile
Expert Installation
Save on Energy Bills
Power & Precision
Built-In Warranty Protection
Clean Energy = New Paradigm
Solar Has Never Been Simpler!
Designed to protect the integrity of your roof. An exceptional perimeter guards the system to reduce the risk of leaks or animal infestation. You can count on the strength and stability of DecoTech panels for years of worry-free performance.
Curb Appeal
Low Profile Design
The sleek, low-profile design of the GAF DecoTech® Solar System delivers high performance along with curb appeal. The beautiful black gloss finish blends beautifully with your existing roof.
Energy Savings
Integrated Technology
The DecoTech® System uses best-in-class standard modules that produce the same amount of electricity as typical rack-mounted systems. Actual electricity savings will depend on your energy usage, location, utility company, and other variables
When You Compare DecoTech To Your Other Solar Options, The Choice Is Clear...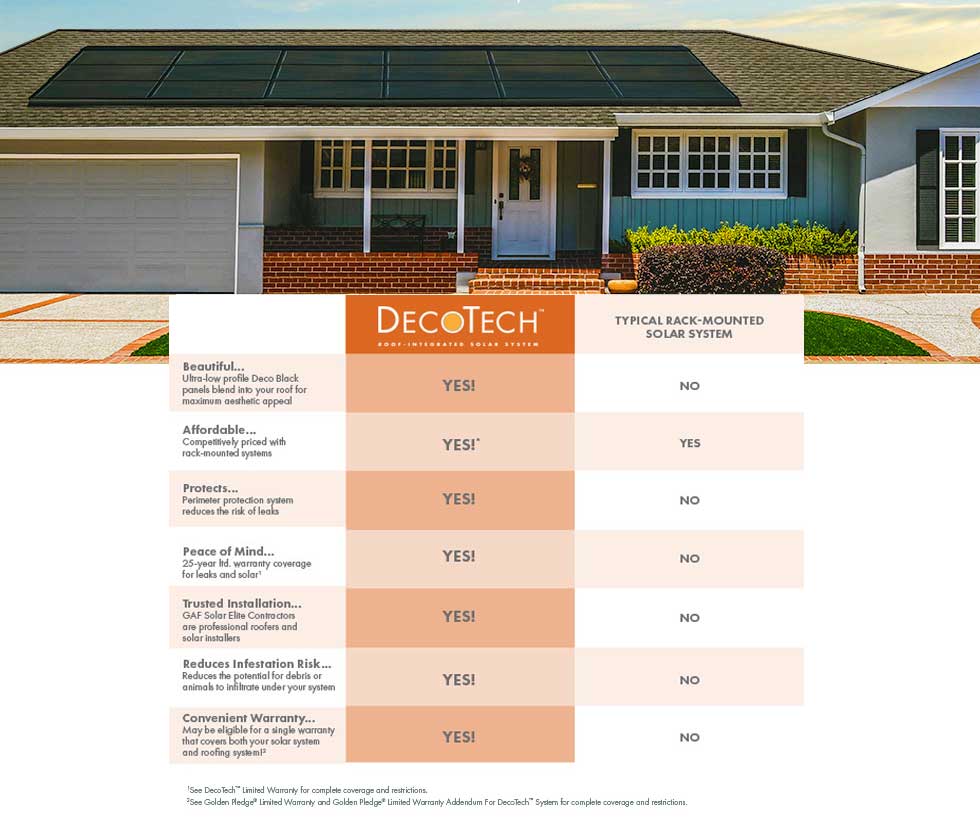 Our Sunshine State ranks # in America for savings from installing solar panels on your home.
Are Your Ready To Make The Shift To Solar?

We are a full-service roofing and solar contractor who is recognized in the industry for our accreditations and awards. We specialize in roofing and have the ability to offer you not only a top-quality roof but also a beautiful integrated solar system that is affordable, hassle-free and simple. Give Us A Call.