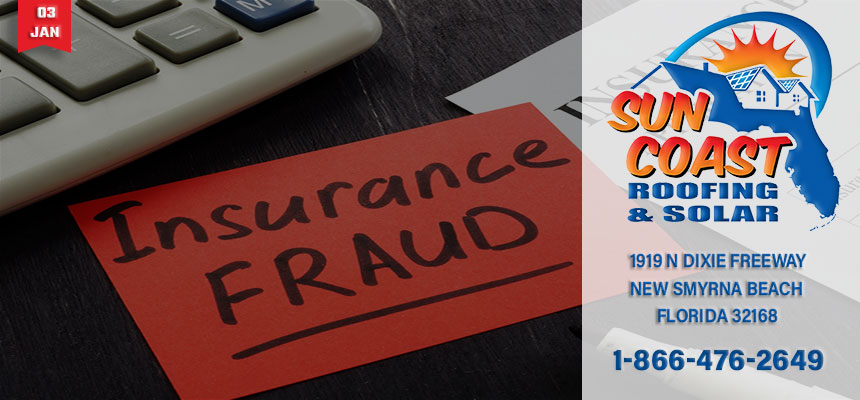 A roofing insurance scam is any fraudulent practice, committed on the behalf of the policy holder or by the insurer, to leverage a financial benefit, which the executor, otherwise is not entitled to.
To put it more simply, if a homeowner attempts to claim a financial benefit which the policy does not allow, then, it is a case of roofing insurance scam.
Similarly, if an insurer wrongfully denies releasing the payment, that covers the policy holder against a potential roof damage expense, then that too is a case of roofing insurance scam.
Roofing Insurance Scams – A Detailed Insight!
Case 1
The weather in the past week was very harsh. There were rains, hail storms and thunder storms. Thankfully, it's now over. The sun is out. But, beware, so are the fraudulent roofers.
You hear a doorbell and find a representative from a local roofing company at your door. The representative offers you a free roof inspection, assuring to help address any potential roof damages that may have been the consequence of the harsh weather.
Although, the integrity of your roof remains perfectly intact—albeit minor damages, the roofer, with the help of a coin or a sharp object physically damages the roof. You get false reports of how the storm has severely affected your roofing system and now you need to contact your insurance company to get it repaired.
This is an example of insurance fraud committed on your behalf. The roofer will be wrongfully ripping off your insurer as well as you, since you will be partially contributing to the repair expenses by paying the deductible.
What Can You Do to Avoid Being a Subject of Such Scam?
Only get the roof repair job done by a reliable roofing company in your area.
If you suspect your roof has been damaged, it is advisable to first contact your insurer before a roofing contractor.
Let the insurer representative inspect the roof.
Take photographs, before and after roof repair jobs.
Case 2
The doorbell rings and you find a representative of a local roofing company at your door. They are offering you a tempting solution. You won't have to pay the deductible; the contractor promises to bill the insurer in whole. All you need to do in return, is install an advertising sign of the roofing company in your yard.
This is another example of roofing insurance fraud, and, you may be a part of it - knowingly or unknowingly. This is illegal and it can get you in serious legal trouble if you do not take actions against it.
What Can You Do as a Homeowner?
Avoid working with any such roofing contractor.
Always check the final invoice submitted to your insurance company by the roofing contractor.
Make sure you know how much deductible you are entitled to pay.
Maintain communication with your insurer.
Only pay the contractor once you have a final invoice.
Case 3
The past week weather has inflicted some serious damage on your roofing system, but, you are relaxed about it – you are covered.
However, when you contact your insurer, the agent wrongfully denies your right to claim, leveraging the use of loopholes as contained in your insurance policy. Minor fixes can be accounted for but repairs involving roofs, require the expense of significant budget.
This is our final example of insurance fraud, which you may be subjected to.
What You Can Do as a Homeowner?
Read the paper print of your insurance policy, thoroughly before signing it.
Work with an experienced roofing company that offers the service of facilitating the process of insurance claims.
These companies have representatives, who are well versed in the area of insurance and can help you with your claims.
These are just a few examples of insurance scams. Unfortunately, there are many more. To safeguard yourself it is best that you contact a reliable, local and certified roofing contractor who is experienced in storm damage to help guide you through the red tape of the insurance claim process. Many contractors will have certified insurance experts who will handle the entire process for you.
We hope this blog served to be a helpful educational guide for our readers, equipping them with the information about different fraudulent insurance practices and the measures to take, to avoid being a part of such practices.
The Smart Choice is Sun Coast Roofing & Solar
"Pumpkin" has walked and taken a few naps on many a roof and has been around the roofing industry for many years now. She is assisted by Admin (H. Watson, Consultant) who specializes in accounting, web development, DB design & implementation, seo and network security. Knowing that blogs are an important factor to any website content, together we create blogs to deliver useful information that is relevant to Sun Coast Roofing & Solar's customer base.
Author Related Posts: