Our
Safety & Training
At Sun Coast Roofing & Solar our safety and yours is paramount.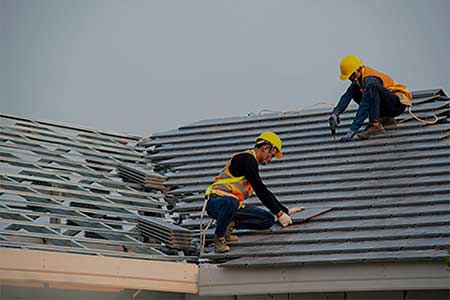 Roofing is considered one of the most dangerous professions in the nation. It is vital that roofing contractors take the necessary precautions in safety and training for their employees. At Sun Coast Roofing & Solar we do just that.
Roofers face a variety of hazards on the job, including those associated with working at height, ladders, power tools, electricity, noise, hazardous substances, and even extreme temperatures.
As with most safety practices, it does not take much to reduce your roof's risk profile. The trick is to have the right measures in place and make sure all parties do their part to eliminate hazards. Our production managers visit each jobsite to ensure that all safety standards are being met. We maintain an on-going training program as well as regular "Toolbox Talks", as nothing is more important than the safety of our employees and our customers.

We at Sun Coast Roofing & Solar strive to maintain the highest standards of job safety with continual education and training. Coupled with our regular safety meetings and "Toolbox Talks", we have an extensive safety policy and our OSHA Certified Superintendent's perform unannounced job-site visits, to ensure that safety practices are being adhered too.
Ladder & Scaffolding Safety
Fire Protection & Prevention
Heavy Equipment Operations
Vehicle/Fleet Driving Safety
Safety First Motto
NO job is so important, and
NO service is so urgent, that
WE cannot take time, to
PERFORM our work safely.

Safety is a system of preventive measures when performing work and repairs on rooftops because it is one of the most dangerous jobs in the construction industry.
According to The Bureau of Labor Statistics roofing is ranked as the 5th most dangerous job in the nation. Which is why our safety program is important and follows all OSHA guidelines.
Fall protection safety is a top priority when working on tasks that require harnesses. Performing regular worksite and safety harness inspections helps prevent fatal falls and accidents. Site safety inspections ensure permits, installation, training, and overall equipment are in place.
Equipment is no substitute for common sense and good judgment. Even with all the right equipment in place, having roof smarts plays an even more vital attribute to safety. This is why "Toolbox Talks" are crucial. We always begin roof work with a toolbox talk to mitigate possible roofing risks. Inspect & identify possible hazards associated with work at the jobsite and resolve any safety issues that arise.

To better understand how dangerous roofing can be, here are a few statistics:
For every 100,000 full-time roofers, about 24 were killed by falls
For every 10,000 roofers, roughly 52 suffered non-fatal injuries
Roofing employment is expected to grow more than 10% by 2022
Physical demands of working in the roofing sector is contributing to the high turnover rate
Fall protection is required whenever a roofer is 6 feet or more above a lower level
Fall protection is required for certain areas and activities, such as ramps, runways, walkways, hoist areas, unprotected sites, and overhand bricklaying
Yes, we at Sun Coast Roofing & Solar take safety and training seriously, not only for our employees but for our customers too. This is one of the many reasons that we have had the opportunity to grow and also enjoy an exceptional workmans compensation modified rating.